From August 6th to 7th, the 9th Cross-Strait Forest Management Seminar sponsored by our school and the Chinese Society of Systems Engineering Society of Forestry System Engineering was held in Changsha Modern Gloria Plaza Hotel. China Forestry Science Research Institute, Beijing Forestry University, Northeast Forestry University, Nanjing Forestry University, Northwest Agriculture and Forestry University, Fujian Agriculture and Forestry University, Zhejiang Agriculture and Forestry University, Southwest Forestry University, Taiwan Yilan University, Pingtung University of Science and Technology, Taiwan Chiayi University, Taiwan University , ZTE University, Taiwan Forestry Laboratory, Central South University of Forestry and Technology, more than 30 colleges and universities and more than 260 representatives of scientific research institutes attended the meeting.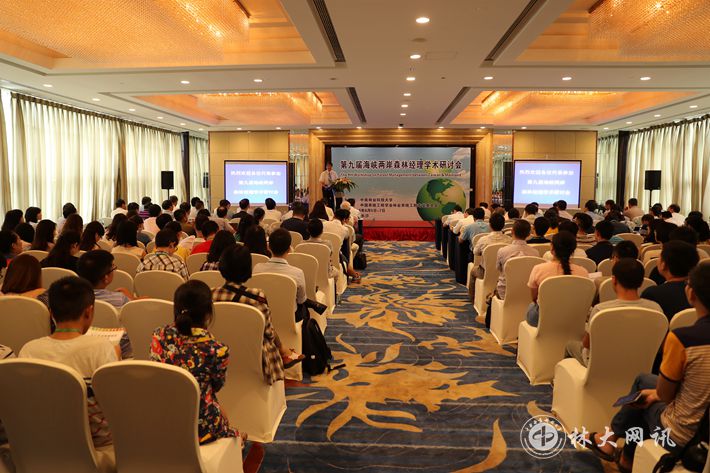 Prof. Liao Xiaoping and Prof. Chen Ziying from Yilan University gave speeches respectively. Professors Li Jiping, Dean of the College of Forestry, presided over the opening ceremony. Professors Zeng Siqi from our school, Zhang Huiru from Central South Forestry Research Institute, Chen Ziying from Yilan University and Chen Chaozhen from Pingtung University of Science and Technology The theme of this meeting, "Modern Forestry and Forest Management" were the subject of academic reports. The paper mainly discussed the structure optimization technology, regeneration technology and selective cutting technology of the secondary forest of Schima superba; the background and technical connotation of the forest quality precision; the evaluation process and the value calculation of the forest wetland conservation; the standard operation of the multi-scale telemetry information in the woodland variation point Process. The experts' wonderful report won the audience applause, the experts and the teachers and students had a warm exchange.
  On the afternoon of August 6 and the morning of August 7, the expert group and the student group conducted a total of 8 field oral reports, 80 oral reports around the forest near nature management and multi-function management, forestry information technology and forest ecology, Forestry systems engineering and community forestry, forestry remote sensing and geographic information systems, forest growth and harvesting models and carbon measurement and other topics, to discuss the problem of forest managers and solutions, there will be 20 posters and 35 full-text contribution Central South University of Forestry and Technology Journal, plans to publish a special issue.
  In order to encourage the enthusiasm of graduate students to participate in academic discussion, the General Assembly also set up a post-graduate innovation forum sub-venue, a total of over 40 graduate students had participated. At the conference, Prof. Zhang Huiru made the academic report on the Development Strategy of Forest Management Disciplines for the postgraduates. Seven graduate students from Beijing Forestry University, Chiayi University of Taiwan and Central South University of Forestry and Technology respectively made their oral reports related with their own thesis selection and discipline development.
  It is reported that this symposium is the largest one up to now, the experts and scholars are expected Cross-Strait Forestry cooperation in the field of forest management depth and breadth can be further strengthened to carry out more academic exchanges And teaching cooperation. (Text by / College of Forestry Zang Zhuo .Edit / Lin Yingqian Photo by / Liu Kai.Audit by /Zhou yufen)