November 22, the second college students' tourism professional Comprehensive Skills Competition, sponsored by the Hunan Provincial Department of Education, held in our school, and 54 teams from 27 universities participated in the competition. Ge Jianzhong, deputy director of the Provincial Department of Education, Zhu Daohong, vice president of CSUFT, Tang Libin,dean of the Provincial Department of Higher Education, attended the final closing ceremony.
   Different from tourism professional competitions in previous years, this contest focused on the development of Hunan tourism products and the cultivation of innovative talents,which viewed tourism products' design as the core content. All the contestants went to Hunan Shui Fu Temple National Wetland Park for a field trip as early as July this year. Subsequently, with regard to Shao Lake Holiday Town ,they designed a series of tourism products with innovation and local characteristics, through combing the theories learned in classes and practical experience with the tourism market, from many aspects, such as mining products, improving products, developing products, combing products and so forth.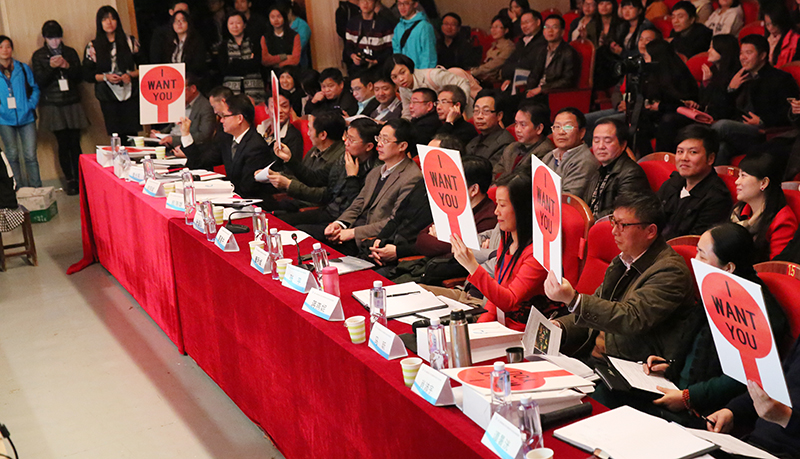 After a blind copy online election, the quarter-final and other sectors, nine teams came out on top, and reached the final that was held in the evening of 22th ,competing for eight first- prize.
   All the judges of the final were industry experts from the Provincial Tourism Bureau, the well-known travel agencies,The Tourism Planning and Design Institute and other units. After each group of contestants made a presentation about their products, experts questioned each of them on the spot.The originality of nine teams were varied, such as "Family Fun", "Wedding Island", "Alumni Reunion", "Island of Eco-Cultural Experience " and other product designs, demonstrating the tourism majors' good comprehensive qualities in our province."Shao Lake Tourist Area 'Home Paradise' Product Planning Program",from Hunan University of Arts and Works, "Sweet Paternity — Shao Lake Holiday Town Tourism Products",from Hunan Women's University , "Enjoy Shao Lake, Ease and Free ",from Hunan Normal University, respectively won the first ,second and third prizes.
   Zheng Yan,the president of Hunan Tourism Education Research Association,spoke highly of the contestants' performances. He believed that the design of tourism products was much difficult for students,which required deep understanding of tourism resources, as well as accurate grasp on the tourism market.But,only in this way may undergraduate students show their overall qualities, and they can be more suitable for the needs of tourism industry's future development . "some of the programs in this competition can directly participate in the 'Challenge Cup', some can take tender, and even some tourism companies' officials said that they took a fancy to the program and meant to recruit their staff."
   Both"Colorful Landscape of Lake,Wonderful Time in Shui Fu" and "Shui Fu Temple Wetlands Center" two projects from our school , entered the final at the same time and respectively won the fourth and fifth prizes. "This contest was a test not only for the professional knowledge but for the overall qualities. In addition to planning the design of tourism products, it was also involved in operation ,development and other aspects,which could cultivate us as a winner in 'decathlon',''said Weng SuTong ,a contestant from our school,who won "The Most Business Concern Award''with other eight students.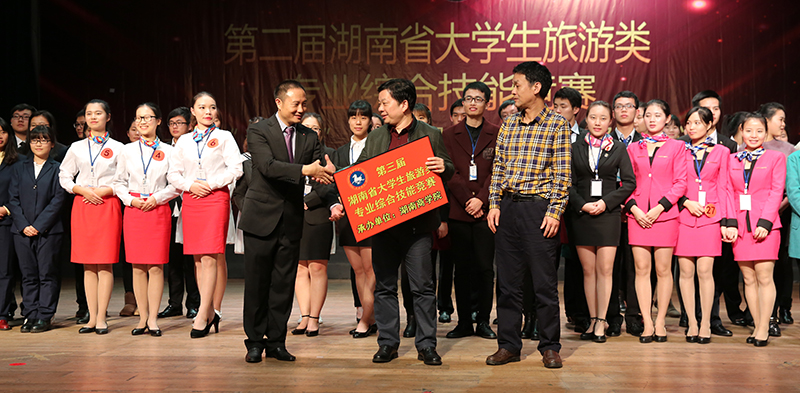 "Communicating with companies' leaders, we had a new perception and growth," Liu Zi Ying, from Hunan University of Arts and Science ,said that she had had learned a lot when talking about the session of the judges' questioning. "Industry experts can treat the problems from higher level and a different perspective, point out our deficiencies and guide us to correct them.I think myself get a lot of experience and promotion."
On the closing ceremony, the organizing committee announced that the third college students' tourism professional comprehensive skills competition in Hunan wuold be hosted by Hunan Business College in 2016.Zhong Yongde, president of the Institute of Tourism of our school and Zhong Zhiping,president of Tourism Management Institute of Hunan University of Commerce handover of the contractor right. (Text/Student Press Association,He Junxuan, Liu Ruirui)