Zurbruggen Design Culture Communication Center
settled in CSUFT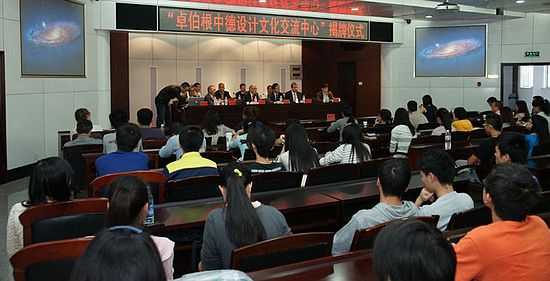 September 29th, the opening ceremony of Zurbruggen Design Culture Communication Center (Zurbruggen Center for short) has been held in CSUFT, with the attending of Asim·Zurbruggen, the president of Zurbruggen Group, Wheeler·Colt, the mayor of Una Stadt of German, and Zhou Xianyan, Chen Hong, the president and his deputy of CSUFT as well as representatives of Art and Furniture Design college.
Zurbruggen Center, established by German Zurbruggen Wohn-Zentrum and Centre South University of Forestry and Technology, will assumes the course of cultural transmission and communication between German and China on the aspect in furniture design, and be staged for learning and communicating to cultivating talent brains. After the establishment, Zurbruggen Center is planning interactional activities, design and vocational programs, and international design contests in various forms and levels. At the same time, it will set Zurbruggen classes and scholarship. The significant establishment is capable to integrate furnishings trade, design culture communication, and life style in German and China.
The well-known German furnishing designer Norbert·Beck gave the passionate speech German Design to all the appearances after the opening ceremony.
Asim Zurbruggen(left),Wheeler &Coulter(middle),and Zhou xianyan(right)