The Ninth National College"President Cup"
Ping-pang Match Held in CSUFT
November 1st to 4th ,the ninth national college "President Cup"ping pang match is held in the gymnastic of CSUFT.There are 25 teams ,from the Ministry of Education and the provinces, autonomous regions and municipalities nationwide, a total of more than 200 colleges presidents gathered in CSUFT .The match targets at making friends with the ball and promoting exchanges so as to promote the development of higher education jointly.Hunan Provincial CPPCC Vice Chairman Liu xiao announces the opening ceremony.
Hunan,as host,have two delegations participates in this match,lead by Wang kemin,director of Ministry of Education and Ge jianzhong,deputy director of Ministry of Education respectively. Their coaches and athletes are from Hunan First Normal University,Hunan Agricultural University,Hunan International Economics university and CSUFT,etc. Being sportsman,Zeng siqi,Yang lin'an,and Ren xiangchen participate in this match.
National college "President Cup"table tennis tournament ,originated in 2002 in East China University of Technology,is hosted by Chinese University Sports Association, co-organized by provincial Ministry of Education,and organized by Chinese College Sports Association and related universities.With 8 successful editions in the past 11 years,it has become a famous brand events,recognized by Ministry of Education and the State Sports General Administration ,concerned by universities and communities around the country,and received good social response. The event's slogan is :"Conscientious when being president,relaxing when playing table tennis". It not only helps the leaders enjoy the charm of Ping pang,but also promotes the communication in education and management.
The tournament is hosted by Chinese Universities Sports Association , Hunan provincial Ministry of Education,and organized by CSUFT.Table Tennis former world champion Liu wei ,Chen longcan are coaches ,guiding the entire process.Henan team successfully win the game in four consecutive competition, Guangdong and Hubei rank second and third respectively. Jiangsu ,Fujian,Hunan and Tianjin also rank among the top eight teams.
In addition,the guests and athletes make good comments to our school's clean and quiet environment ,shows satisfaction for the reception work, especially for student's volunteering scaring service and on-site cheerleader's enthusiastic cheer.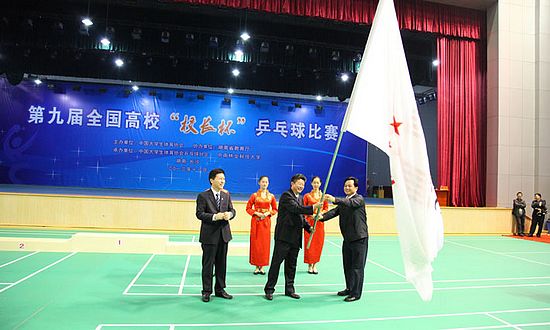 President Zhou delivers flag to Henan Polytechnic Universit

Wang kemin,Director of Hunan Provincial Ministry of Education awarding