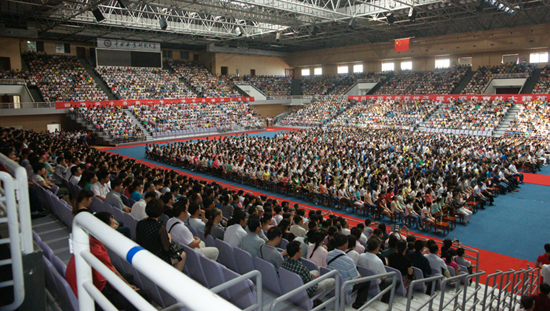 On Sept 9th, the 2013 freshmen opening ceremony is held in the Sports and Art Center. .All school leaders, including Xie Chaozhu, Cai Sigui, the relevant department chiefs, representatives of teachers,and students,6081 freshmen, parent representatives and military instructors attend the opening ceremony. Communist Party Secretary of CSUFT Zeng Siqi presides over the ceremony.
President: Having dreams is just the starting point for future success, while working hard is the key to life-changing
On behalf of students and teachers,President Zhou warmly welcomes the accession of 2013 freshmen of CSUFT. He introduces new students and parents the school's enrollment this year, school level, hardware, facilities, and so on. He hopesthat students will make full use of favorable conditions, tour in the ocean of knowledge, and enrich their college life.
Zhou puts forward several hopes to all freshmen.First,he urges students to own dreams and down to earth.He says," Owning dream and working hard is the only way to change life.I hope students at CSUFT will build dream,pursue dream,and realize dream,More importantly,you'd better keep your personal dreams in pace with China Dream."Second,to be a man of honest, trustworthy and full of virtue.It requires students not only learn to be knowledgeable,but also learn to be a true man and strive to both able and integrity .Third,to be a man of diligent and innovative. Finally, he wishes students spend a good time in CSUFT.
Teacher:Our youth and life will continue and eternalize on students Professor Xiao Jianwu of Business School,represents teachers give a speech. He says that all the teachers have got everything ready, and will educate students with love and hope, be willing to become paving stones in students ' success learning road. Also,he hopes students can establish lofty ideals, seize every day and create a fruitful future of CSUFT with faith, perseverance, and courage.
Student Representatives:You will spend the best time in CSUFT
The representative and student Union chairman Li Yingchao, gives his passionate speech. He shares his own experience of witnessing changes in our campus with freshmen, suggests them keeping the motto "Upon nous and truth, we innovate. For nature and nurture, we cultivate" in minds and holding opportunities to training themselves to live their happy campus lives.
Freshmen:This is a new starting for us to realize our dreams
Yu Ying, a freshman from Environment Engineering major in Forestry College, expressed her pleasure and pride in her first entering CSUFT. She enjoys her future plans, goals with other freshmen, and appeal them to cherish campus lives, to return school, teachers, and parents with their excellent performances.
Parents: Campus is clean and quiet, a good place for study
After the opening ceremony, a parent whose first name is Liu, says that the whole ceremony is exciting. It makes parents better understand school, feel the good academic atmosphere. "Hence, we are more confident that our children can live a good life in CSUFT." He is also satisfied with the school environment." School is clean and quiet, a good place for study".